Four Classic Steps to a Successful Driveway Pressure Washing
In this article we will take you along as Classic Softwash is Pressure Washing a Driveway in Brunswick Forest, located in Leland, North Carolina. You will get a quick look at our Classic Four Step Process utilized to get a driveway looking great again, no matter how dirty it may be. It is common for driveways to accumulate dirt, environmental stains, and even rust marks over time. Most driveways can be cleaned with great results using our Classic Four Step Process outlined below.
Step 1: Pre-Treatment Solution
The first step involves preparing the concrete surface for effective pressure washing. After removing any debris that may be found on the driveway, we will apply our pre-treatment cleaning solution to the areas that will be pressure washed. Our pre-treatment solution utilizes a mixture of our Toner 12, Green Wash, Terra Wash, and Rain Fresh products. The products we use and our application systems adhere to our Good Stewards Program. Together, this cleaning solution will begin to work on the surface; loosening the bond between the concrete and the dirt and stains. It is also important to protect any adjacent vegetation such as plants or grass by soaking it with water and also rinsing the vegetation after the pre treatment solution is applied to the driveway.
Step 2: Pressure Washing With A Surface Cleaner
After allowing the pre-treatment solution to work for 5-10min, we are ready to move on to step number two. Step two involves utilizing our pressure washing surface cleaner attachment to lift the dirt and stains up from the concrete. During this step, it is important to select the appropriate amount of pressure required to clean the surface. We often clean driveways using our surface cleaner set to a maximum pressure of 2,500 PSI (please note that this kind of high pressure should never be used to clean your actual home or roof, this is why we choose to Softwash those other surfaces). It is also important to maintain a consistent speed and pattern while operating the surface cleaner. This may be the most satisfying part of pressure washing a driveway, but the results would be less then stellar if we just stopped here.
Step 3: Rinsing The Driveway
Once the surface cleaner has been been used to lift the dirt up from the driveway surface, it is time to make sure that all of that dirt is carried away. For this step, we will remove our surface cleaner attachment and use our handheld rinsing wand. Rinsing the driveway is an essential step that can not be skipped.
Step 4: Post Treatment Solution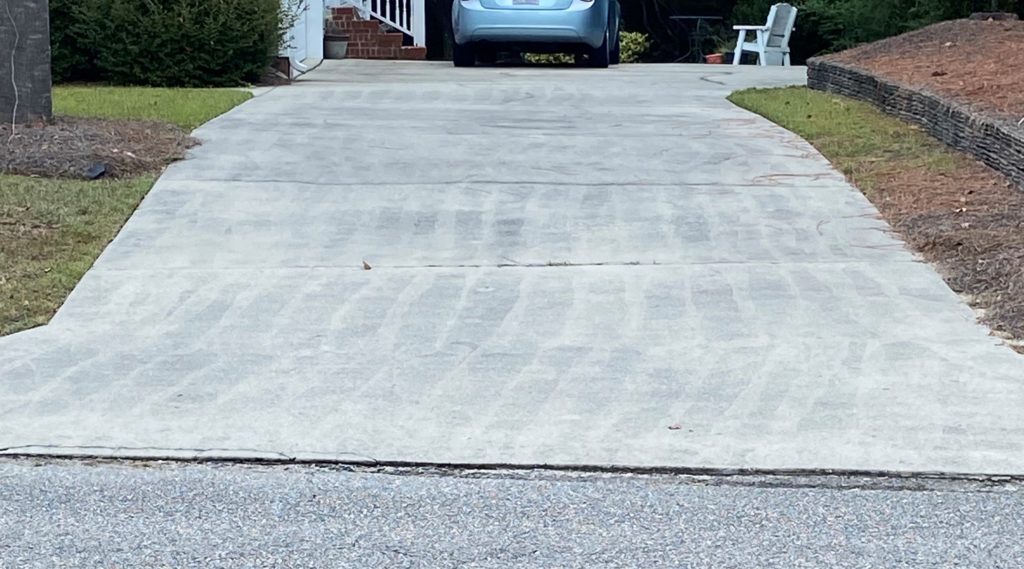 After the dirt and grime has been successfully lifted and rinsed off of your driveway, there is one last crucial step to ensure that the driveway will maintain that clean and clear appearance for as long as possible. A professional driveway cleaning isn't finished until a final application of cleaning solution has been applied and left on the driveway to soak in and dry out. Some companies may skip this step in order to save time and money by not applying a final coat of cleaning solution. If this final step is skipped, the driveway may reveal it in a short period of time. If the post treatment solution is not applied, the driveway may start to develop streaks or patches in which dirt and grime quickly reappear (see picture).
Hire a Professional Pressure Washing Company
While it may be possible for you to pressure wash your own driveway; it is very likely that your equipment and lack of supplies will cause the job to take much longer and the results will likely not last as long. If you are interested in receiving an estimate from Classic Softwash, just fill out our Estimate Request Form to get started!